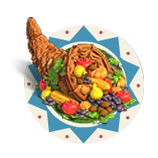 About
Wild Garden: a new land on the map of Klondike

Introduction
Here you will find lots of wild apple and pear trees whose fruits are needed for upgrading the new special building Cornucopia.
Wild Garden is a temporary location that closes 14 days after you first travel there.
The last day when you can make your 1st trip to Wild Garden is December 14th.
Wild Garden is located very close to the Home Station and only requires a Kerosene lamp as equipment, so all players (including low-level beginners) will get to travel there.
Your mission on this station is to cut 105 wild apple and pear trees.
Cut the trees in Wild Garden and bring the treasures home to fill the Cornucopia.
Reward for reaching the goal: 1 dynamite (100 Energy), 50 Fruits of autumn, 5000 XP, 15 collection pieces.
If you clear Wild Garden completely, you will earn an achievement and get a great reward!
Inhabitants
Unique Features
Fruit Trees - Full combination chopping down these trees will earn the player the following valuable resources:
| Item | Weight |
| --- | --- |
| Ripe Pear | 5 |
| Juicy Apple | 5 |
Equipment Requirements
Associated Quests
Travel Information
Home Station to Wild Garden : 33 km
Maps
Notes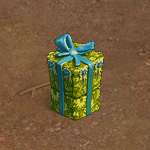 Apple Trees have 25 pcs, Pear Trees have 45 pcs.
The special gift rewarded by the Wild Garden quest contains: 5000 XP, 50 Fruits of Autumn, 3 emeralds, Collection items.
Decorations: lots of Ukhty fences, 1 large and 2 smaller Khans' totems, 1 Khans' idol, 1 kennel, 1 Ukhty dugout, 1 obelisk, 3 wagon with flowers, 3(?) deer figurines.
The two large dark brown chests depicted in some of the images may not exist on this map outside of the Facebook game version. YES: Facebook, [...]. NO: Plinga, [...].
The small entrance area yields (from fallen apples and trees) ~22 baskets. The southern corner area yields ?? baskets. The western corner area yields ?? baskets. The center area yields ?? baskets. The pear tree northeast yields ?? baskets.
Ad blocker interference detected!
Wikia is a free-to-use site that makes money from advertising. We have a modified experience for viewers using ad blockers

Wikia is not accessible if you've made further modifications. Remove the custom ad blocker rule(s) and the page will load as expected.