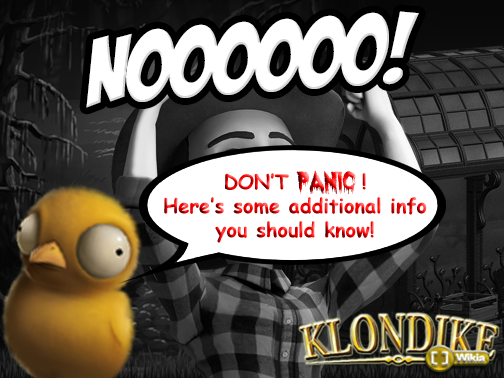 Dear Players,
Due to changes on the site, the administrators have decided to move the wiki to a new web location. The Klondike Wiki has moved to it's new home at https://klondike.gamepedia.com/Klondike_Wiki Please update your bookmarks. Many of the links on this site will remain for a while, but it will ultimately be pulled down. We will no longer be doing any updates on this domain so be sure to join the new site location for all your game-related needs. We believe that this will give all of you users the best experience when it comes to information for this great game.
Thank you for being members of this great community and we'll see you on the other page!
Sincerely, Your Klondike Wiki Admin Team
Ad blocker interference detected!
Wikia is a free-to-use site that makes money from advertising. We have a modified experience for viewers using ad blockers

Wikia is not accessible if you've made further modifications. Remove the custom ad blocker rule(s) and the page will load as expected.