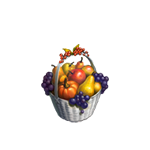 Purchase Price:3


Sell Price:2,000

Gift Value:2,000
Weight:??


Production Time:Instant - Fruits of Autumn are created automatically when Juicy Apple and Ripe Pear are brought back to home station from Wild Garden

Fruits of Autumn is Obtained from:
Materials Created with Fruits of Autumn:
Buildings Constructed with Fruits of Autumn:
Quests the use Fruits of Autumn:
Quests that Reward Fruits of Autumn:
Ad blocker interference detected!
Wikia is a free-to-use site that makes money from advertising. We have a modified experience for viewers using ad blockers

Wikia is not accessible if you've made further modifications. Remove the custom ad blocker rule(s) and the page will load as expected.